Global perspective across the full spectrum of real estate.
Experienced, global team of more than 300 real estate investment professionals dedicated to covering all four real estate quadrants.

Cross-team collaboration that leverages our distinct 360° perspective of real estate space and capital markets.

Coverage of 45 U.S. metropolitan markets and management of almost 200 assets across nine European countries.

We believe a combination of bottom-up analysis and top-down economic and sector research is key to delivering on our clients' investment outcomes.

Executing across the risk-return spectrum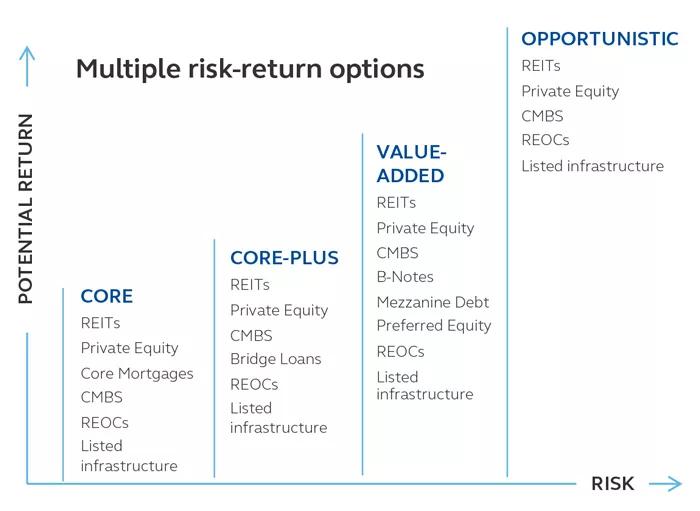 For illustrative purposes only and not a projection of returns to any investor. This information is intended to show a general risk profile and is based upon certain assumptions that may change. The characterization of the increasing risk is only made to illustrate the Firm's view of the relative increasing investment risks inherent in these types of real estate investments. All are subject to various risks, none of which are outlined. An investor must be prepared to bear capital losses, including a loss of all capital invested.
A broad range of real estate investment solutions.
Our experienced investment teams provide comprehensive, specialized, and sustainable capabilities across all four quadrants of commercial real estate—public equity, private equity, public debt, and private debt—as well as infrastructure investing. Whatever real estate strategy or combination of strategies you believe is right for your objectives, we can help.
Explore our featured real estate strategies.
Our 360° view of global real estate gives us the insight needed to help you identify strategies that can offer compelling performance.
Sustainable investing approach
When it comes to sustainable investing, we empower investors by offering choice, confidence, and flexibility.
We believe sustainable investing practices in real estate help reduce risk, improve a property's competitive stature, and increase tenant interest and retention—ultimately providing a foundation for potentially higher rents. As fiduciaries for our investors, we understand, quantify, and act upon sustainable investing through our Pillars of Responsible Property Investing ESG platform.
The aim of our sustainable investing platform is to deliver positive financial and ESG outcomes for all stakeholders by focusing on environmental performance, occupant experience, community impact, climate resilience, and managerial excellence.

Sustainable investing engagement with tenants, property teams, borrowers and other parties, seeking to promote greater transparency, awareness, and accountability to higher standards.

Our sustainable investment initiatives center around a long-term commitment to achieve net zero carbon emissions by 2050 or sooner.1
By&nbsp
Indraneel Karlekar, Ph.D., and Arthur Jones
By&nbsp
Indraneel Karlekar, Ph.D.
By&nbsp
Indraneel Karlekar, Ph.D., and Daniel Tomaselli
1There is no guarantee that this net zero target will be achieved.
Past performance does not guarantee future results.
Real estate investment options are subject to risks associated with credit, liquidity, interest rate fluctuation, adverse general and local economic conditions, and decreases in real estate values and occupancy rates.
ESG integration is considered across all actively managed asset classes, with the approach determined by each investment group's process. This information is specific to the strategies managed by the individuals providing this content and various investment teams across Principal may have differing views of this approach.
ESG criteria may present additional advantages or risks and does not protect against market risks or volatility. You should not make any investment assumptions based solely on the information contained herein. There is no assurance that any ESG component in our investing strategy will be successful.
Principal Real Estate is a trade name of Principal Real Estate Investors, LLC, an affiliate of Principal Global Investors.