Our investment approach
Principal Dynamic Growth uses a bottom-up, growth-oriented approach to find companies that we believe are getting stronger because of fundamental momentum or positive surprise. We specialize in the management of small-cap, mid-cap, and SMID-cap equities, primarily in the United States, and our growth strategies strive to outperform their benchmark over a three-to-five-year market cycle.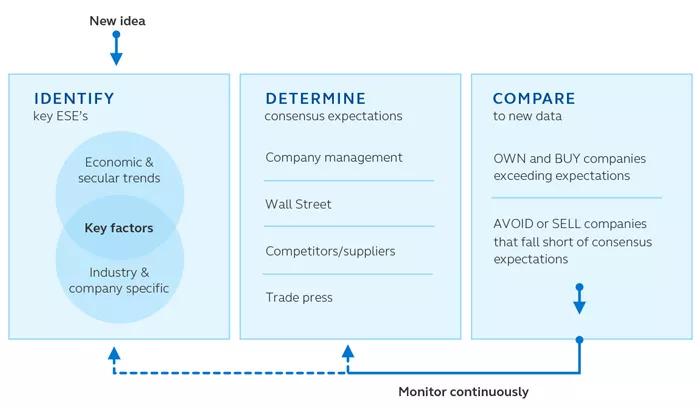 Our commitment to ESG
When it comes to environmental, social, and governance (ESG) investing, we empower investors by offering choice, confidence, and flexibility.
Our approach to ESG considerations is informed by our active avoidance of unresolved or anticipated major controversies from a risk management perspective. Our focus on high growth has naturally led to strategies with generally low fossil fuel involvement and "low-carbon" designations.
Active surveillance of ESG risks and ratings trends is incorporated into our investment process.

MSCI ESG analytics are imbedded in the team's toolkit and analysts document key ESG considerations on new buy recommendations.

We focus on understanding the perspectives of other engagers (Wall Street, industry experts, ISS, etc.) and benefit from memberships with ESG supporting organizations.
Get to know our equity investment teams.
Our distinct and highly experienced equity investment teams are committed to delivering consistent investment results.
Equity market downturn: Unraveling the decline
The threat of persistent inflation is reason to reconsider traditional asset allocations.
Experts
Han Peng, CFA
Quantitative Strategist
Seema Shah
Chief Global Strategist
Market rally: Beware of the Bear
2022 has been remarkably similar to previous bear markets.
Equity market downturn: The path forward
While bear market rallies may be enticing, they are often short lived, and come with underappreciated risks.
Experts
Garrett Roche, CFA, FRM
Global Market Strategist
Seema Shah
Chief Global Strategist
Past performance does not guarantee future results.
Equity markets are subject to many factors, including economic conditions, government regulations, market sentiment, local and international political events, and environmental and technological issues that may impact return and volatility. Small and mid-cap stocks may have additional risks including greater price volatility.
ESG integration is considered across all actively managed asset classes, with the approach determined by each investment group's process. This information is specific to the strategies managed by the individuals providing this content and various investment teams across Principal may have differing views of this approach.
Principal Dynamic Growth is an investment team within Principal Global Investors.