Our investment approach
Principal Aligned takes a long-term, bottom-up fundamental approach and specializes in the management of large-cap and mid-cap equity portfolios, primarily in the United States. We invest in owner-operator led companies with aligned incentives, while remaining focused on valuation and risk reduction. Our established track record includes a proven history of delivering risk-adjusted excess returns over market cycles.
High-quality businesses with sustainable competitive advantages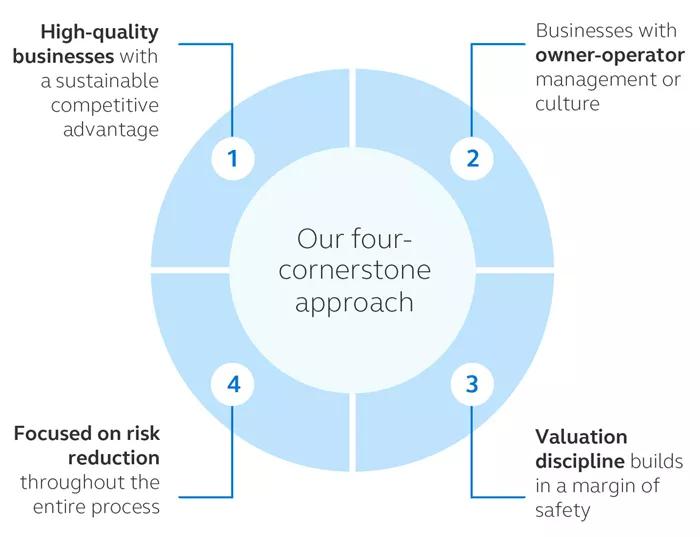 Explore our featured equity strategies.
To help you effectively balance risk and return, we make available equity strategies that have historically delivered attractive returns.
Blue Chip Equity
Investing in high-quality large-cap companies with owner-operator management teams and sustainable competitive advantages
MidCap Equity
Investing in high-quality mid-cap companies with owner-operator management teams and sustainable competitive advantages.
Sustainable investing approach
When it comes to sustainable investing, we empower investors by offering choice, confidence, and flexibility.
Quality governance is central to our investment process and one of the primary reasons we invest alongside owner-operator management teams. Our long-term fundamental approach naturally relies on sound sustainable investing principles as we believe competitively advantaged businesses are better able to satisfy stakeholders.
Our process involves frequent discussions with former employees, customers, suppliers, etc. for full understanding of the health of the stakeholder ecosystem.

We use MSCI's ESG research to cross-check our own research for potential sources of ESG related risk. However, we believe most ESG data providers' definition of quality governance is often too simplified and standard formulas do not fit every company's unique situation, so we do not depend on them.

We generally have small-to-zero weight in companies or industries known for heavy environmental costs (e.g., energy, machinery) as they tend to be capital intensive, commoditized businesses, without a competitive advantage.
Get to know our equity investment teams.
Our distinct and highly experienced equity investment teams are committed to delivering consistent investment results.
By&nbsp
Garrett Roche, CFA, FRM, and Seema Shah
Past performance does not guarantee future results.
Equity markets are subject to many factors, including economic conditions, government regulations, market sentiment, local and international political events, and environmental and technological issues that may impact return and volatility.
ESG integration is considered across all actively managed asset classes, with the approach determined by each investment group's process. This information is specific to the strategies managed by the individuals providing this content and various investment teams across Principal may have differing views of this approach.
Principal Aligned is an investment team within Principal Global Investors.