Our investment approach
Principal Edge invests in quality companies with competitive advantages, financial strength, shareholder-oriented management teams, and strong or improving profitability. We specialize in the management of large-cap, mid-cap, and SMID-cap equities, primarily in the United States. We focus on quality first, have the patience to invest at attractive valuations, and maintain a long-term investment horizon.
Powered by great companies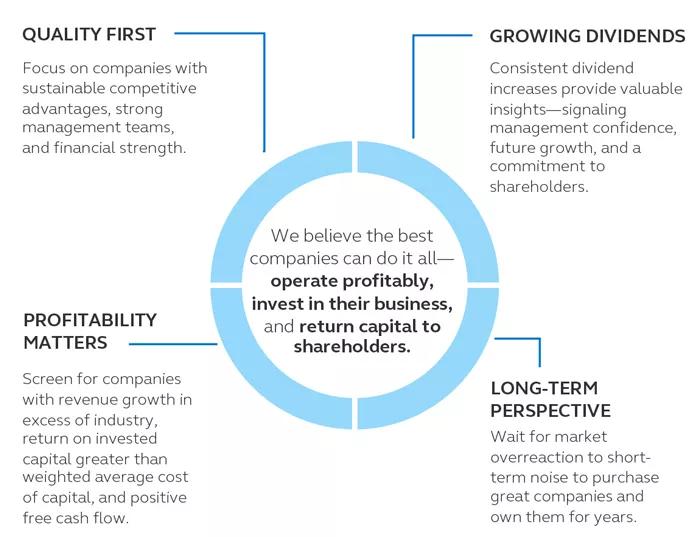 Explore our featured equity strategies.
To help you effectively balance risk and return, we make available equity strategies that have historically delivered attractive returns.
Sustainable investing approach
When it comes to sustainable investing, we empower investors by offering choice, confidence, and flexibility.
We believe the best companies can do it all—operate profitably, invest in their business, and return capital to shareholders. We see ESG as an important risk factor and are more likely to avoid companies where there are ESG-related concerns.
We evaluate each company based on their competitive advantage, complexity, financial strength, potential for profitability and shareholder friendliness. There are also three ESG factors that we highly value, monitor, and advocate for: diversity, carbon emissions, and pay equity.

Our proprietary qualitative industry ranking approach evaluates these ESG factors within the context of each sector, recognizing leaders and laggards.

As part of our industry review process, our team regularly engages with company management to determine their level of ESG commitment and to encourage disclosure.
Get to know our equity investment teams.
Our distinct and highly experienced equity investment teams are committed to delivering consistent investment results.
2023 mid-year update
For long-term fundamental investors, the second half of 2023 is an exciting backdrop.
Past performance does not guarantee future results.
Equity markets are subject to many factors, including economic conditions, government regulations, market sentiment, local and international political events, and environmental and technological issues that may impact return and volatility. Small and mid-cap stocks may have additional risks including greater price volatility. Dividends are not guaranteed.
ESG integration is considered across all actively managed asset classes, with the approach determined by each investment group's process. This information is specific to the strategies managed by the individuals providing this content and various investment teams across Principal may have differing views of this approach.
Principal Edge is an investment team within Principal Global Investors.